"We'd be lost without this help and support": Natalia & Chloe's story
Mum Natalia is one of the 30% of working parents on Universal Credit who told us they'll be likely to skip meals this winter to make ends meet. Find out what we're doing to support
Factory worker Natalia, 35, lives with her one-year-old daughter, Chloe, in Norfolk. Chloe is a happy toddler, blissfully unaware of the difficult situation that surrounds her. She does not yet know the sacrifices – like skipping her own meals - her mum makes each day to keep her warm and fed.
After her relationship with Chloe's father ended a few weeks into the first lockdown in March 2020, Natalia and Chloe moved out.
Thankfully, mum and daughter were supported by Action for Children to find emergency accommodation.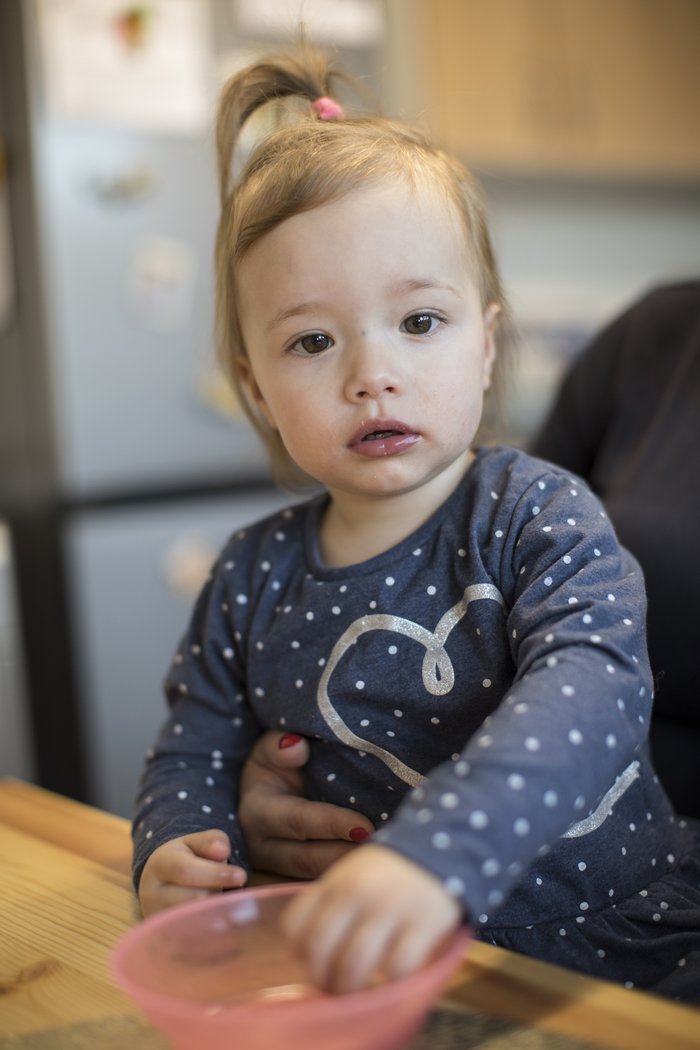 After several months, Natalia's support worker Kirsty Massie helped to find the family a permanent home and furnish it with white goods and furniture, using a grant from Action for Children's emergency fund.
With maternity pay from her factory job reduced and costs incurred from making their new home liveable, Natalia, who claims Universal Credit, soon found herself struggling to afford the basic essentials.
Natalia said: "Living on so little makes budgeting really difficult. I'm still using a foodbank every week to make sure Chloe has enough to eat.
"I often go without food to make sure she has enough, and I regularly eat cereal for a main evening meal."
Natalia returned to work at the factory two days a week in March this year after her maternity leave finished. She soon noticed after she had paid all her bills and nursery fees, she was left with only around £70 a month to live on.
She said: "It was Kirsty who pointed out I should be getting free childcare. She showed me how to apply and helped me follow up with the right people.
We'd be lost without the help and support of Action for Children

Natalia
"Money is still a very stressful thing for me even with the childcare payments now coming through. I do everything I can to buy as cheap as possible and save costs wherever I can.
"I always pay all the bills as soon as I've been paid but what's left is so hard to spread over the month. Now, I've lost £20 a week in Universal Credit – that's such a lot of money to me."
Natalia adds: "I'm really worried about the bills going up. I'm only turning on the heating in the living room now it's got colder – I just wrap Chloe and me up in more clothes."
Natalia is planning a quiet Christmas and despite her money worries is looking forward to spending time with her daughter. She said: "I'm looking forward to just being together with Chloe, going on walks, reading and playing together."
"I'm lucky in that Chloe is a toddler and isn't fussed about expensive toys and presents – she has a few dolls and a pram we were given, but she loves just sitting on the sofa and looking at books, so I'll buy her some second-hand ones as a main present."
"I'd love for her to visit a Santa Grotto somewhere but without a car, it's really difficult trying to find somewhere we can afford to get to on public transport."
Christmas should be a happy time for families. But our poll reveals how concerned working parents are about soaring energy bills and inflated prices this festive season.
Natalia's Action for Children support worker, Kirsty Massie, says: "Day in, day out ,we're seeing families like Natalia's struggling to make ends meet. Parents are worried about Christmas but more concerned about how they're going to provide for their children with rising costs.
"They feel they're letting their children down and sometimes it's more about making sure their child has what they need, but then they themselves go without.
"Parents are embarrassed and too proud about asking for help when they're struggling but they know this is the only way they'll manage through these difficult times."
Action for Children is doing all it can to ensure children are warm, safe and fed.
Unfortunately, so many families like Natalia's are struggling to afford even the basics.
You could help change this. Your donation could help change a child's life for good.
Donate
Help us be a vital lifeline for children, young people and families
Make a donation