Diary of an adopter: Meeting our children for the first time
The first time we met the boys was a day we'll never forget. It was the day we became a family
The diary of an adopter is a series that captures the lives of Action for Children adopters. Neil and James share what being an adopter was like in the early days.
It was an amazing experience, that first day we saw them. We hadn't met any other children face-to-face, so the first children we met in-person were the kids we adopted.
By this point they'd received a book we'd written about ourselves, as well as recorded bedtime stories so they knew our voices. We were a bit nervous about how the kids would take to us on the day. But any concerns we had were blown out of the water when that door opened.
This is real now, we've got kids

James
Arriving at the foster carer's house, we knocked on the door and two of the three boys ran straight to us. They immediately pulled us into the living room, calling us "Daddy, Dad!" These were the names we had chosen, and they knew which of us was Daddy and which of us was Dad.
The youngest, who was only three at the time, was a bit shy and more stand-offish. We were prepared for a number of scenarios by our social worker, so knew not all first meetings went like this.
When we walked in that door, it was just us. But walking out, we both thought, 'this is real now, we've got kids.'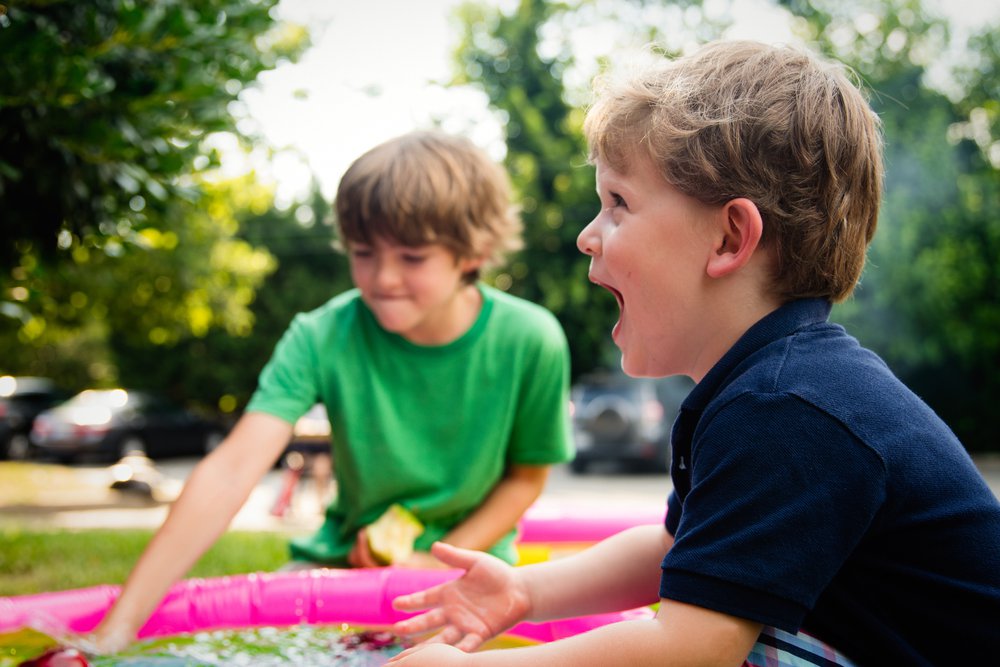 We adopted the three boys all at the same time. Although they're brothers, they each have very different personalities.
Our eldest is quiet and quite reserved. But he's got an opinion about everything, which we often hear in the background.
Whereas our middle son is confident and outgoing. He has an opinion on everything in an obvious kind of way, but secretly, he's more reserved and worries about things more than the others.
And then then there's our youngest: he's larger than life. He doesn't seem to worry about anything. He just takes life at face value, really.
Our house has changed a lot since the boys arrived. It's become more of a home.
Now we have the kids' pictures in the kitchen, and more shoes in the hall. The boys have certainly made their mark – sharing their views about what they like and don't like about the house. "Oh, we like that. Can we do that? Can we move that there?"
The real challenges start when you become a family and you all move in together.

Neil
But the reality is that the real challenges start when you become a family and you all move in together. It's not always roses and beautiful bedtime stories. There were times when they were testing us. There were times when we were tired, or they were tired, or unwell - and we had to keep going through that. But it's balanced with all the good stuff.
The key is starting to get to know each other and build up trust, and you don't do that on day one.
The kids felt very insecure in the early days. Some of the boys' issues from their previous life had been around neglect, and not being fed regularly. We had to remind them the fridge was full and when the next meal would come.
Keeping to a routine helped them a lot – and us too. We'd plan three meals, with snacks in between, at the same time, every day.
Each day was about getting to know each other and becoming a family.

James
Each day was about getting to know each other and becoming a family. We also found ourselves doing a lot of explaining about what was about to happen. We would leave space and time for questions, which were usually about simple things. We just had to slow down a bit in life and make sure we were all taking everyone with us in everything we were doing.
We tried our hardest to mirror the daily routines their previous foster family had put in place. Down to the tiny details, like putting their water bottles in the same place in our kitchen so it was familiar to them.
Adopting our boys brought us closer together – we're our own family now.
It's hard work, and life does change. But I can't imagine life without our boys. What would we have filled it up with? More work? More stuff? More dinners out? Who knows?
It just wouldn't be as rewarding as that hug you get at bedtime, or the sarcastic things they call us, or all the things that they do. No matter how hard being a parent is – because it is hard work – we wouldn't change it.
Interested in adopting?
Request your information pack or call us on 07921 404465
Get your info pack