Joshua was 13 when he lost his home and all his belongings in a fire. Action for Children helped Joshua overcome the trauma and have a safe and happy childhood
[Action for Children] made us feel that even though we had lost everything, we still had so much.

Joshua, then 13
On Sunday 18 September 2018, Joshua woke up with a bad cold.
Being too unwell to go out, he was allowed to stay home and play on his Xbox while his family went out to do the weekly shop.
It was the first time Joshua had been home alone. When his family went out, they had no idea what was about to happen or that this would be the last time they would be able to go into their house.
Joshua waved goodbye to his family and went back upstairs to his bedroom. He said: "I was sitting in my room and then I heard something collapse. I presumed it was just something falling off the side.
"But then I started to feel really warm. I thought it might have just been my cold, so I took my jumper off.
"It was the end of summer and a nice Sunday so when I started to smell smoke, I thought it was the neighbours having a BBQ. But when the alarm went off, I was really confused. That's when I realised there was a fire."
It was a serious electric fire. Despite the tumble dryer being switched off, the "collapse" Joshua had heard earlier was the appliance bursting into flames. The fire that would leave Joshua and his family homeless, with nothing but the clothes on their backs.
Joshua said: "I just ran out. I had no shoes on and the only thing I grabbed was my sisters blanket. In that moment I knew it would make her feel better.
"I was so scared, and I felt so guilty. I thought it was all my fault. I must have caused this to happen. I had been the reason my house was burning down in front of me."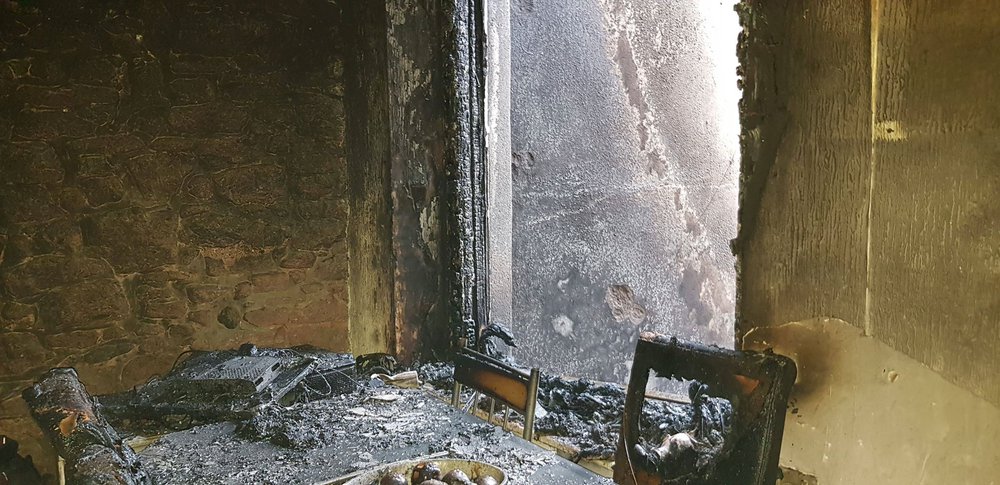 After leaving the house Joshua immediately alerted his neighbours, who called 999 to get help.
Joshua's mum and step-dad returned back shortly afterwards with no idea what was going on. All they could see were fire engines and an ambulance. Joshua said: "I was telling everyone to call all the supermarkets and find my mum and dad. And then they arrived, and I was so relieved.
"My dad ran over to me and wrapped me into the biggest hug and I remember just saying this is all my fault. When he told me it wasn't, it lifted so much weight off me.
"I just kept thinking, I had begged for this. They hadn't wanted to leave me on my own, but I had asked."
The family were told they would not be able to go back into their home and that it seemed the fault came from a fuse in the tumble dryer.
With nothing but each other, the family went to a hotel at the end of the road. Joshua said: "I couldn't sleep that night. At some point I realised I didn't have school clothes for the next day.
"But then Action for Children came round. They had entire uniforms and shoes for us all. And a change of clothes for my brother Noah who was two at the time."
After staying in the hotel, the family moved to local caravan sites for 11 weeks until they were able to find a new home. Joshua said: "We moved every four weeks. That was really hard, because my little sister Arielle is autistic and she freaked out.
"Action for Children gave us lots of help though and she got some lights that helped her. They kept helping us with clothes and food. They also helped mum and dad with the basic things they needed and helped when they could.
"After the fire, if there was any noise, even a leaf on the roof, I was terrified. I was scared of the toaster, I couldn't put the kettle on, anything that made noise was too much for me. Which obviously wasn't easy in the caravan.
"If I was ever on my own, I would be sitting waiting for a noise. I needed people to be around me. I couldn't help but think if only I had done something different."
"My school got me some counselling to begin with, but I didn't feel like they were listening. Action for Children got me counselling and set up visits for me with the fire service. That has really helped me get my confidence back.
"I still see the firemen sometimes and now my dad is now training to become a fireman!"
Just before Christmas Joshua's family were given a new house. However, as the family were still dealing with the trauma of the event, this Christmas was different. Joshua said: "We always knew the drill before with Christmas. But now we are so much more grateful. We don't have nearly as much stuff, but it feels like we have so much more."
Almost a year since the fire, Joshua still has flashbacks and visits the fire service for ongoing support. However, with the support of Action for Children he was able to go straight back to school and has been receiving support for dealing with the trauma.
His brother and sisters have been able to attend various group sessions at their local children's centre and after regressing after the fire are now beginning to get their childhoods back.
Joshua said: "Without Action for Children, I don't know what we would have done. They made us feel that even though we had lost everything we still had so much."
With your help, we can be a vital lifeline for even more UK children.
Help them shine
Every child deserves a bright future. Together, we have the power to help children overcome abuse and neglect, poverty and poor mental health
Donate now