Fireman Sam celebrates new one-year partnership with Action for Children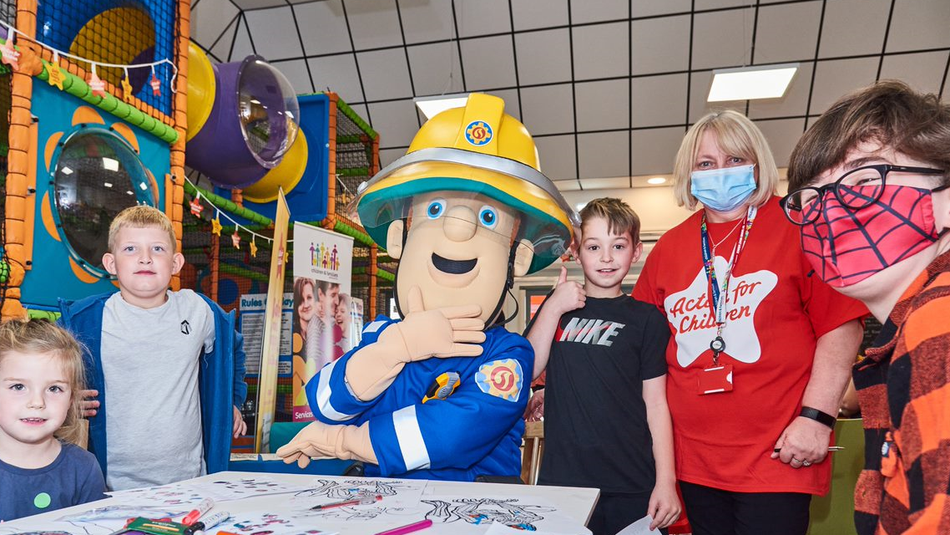 The Fireman Sam™ brand celebrates partnership with Action for Children at the opening of the Galafield Café in Newbiggin Hall, Newcastle
The new Community Café responds to the local communities wish for a safe space for families to meet and interact after the isolation caused by the pandemic
To mark the occasion, tots played with Fireman Sam and experienced the brand-new family services in a fun-filled Hero themed afternoon
The Action for Children and Fireman Sam brand partnership will benefit all Action for Children Spring Nurseries and Children's Centres nationwide with a donation of toys and materials to inspire children to 'light up' their hero
Galafield Family Practitioners are 'true heroes' of the community, a lifeline for local vulnerable families
Fireman Sam was on hand to welcome local children and families to the opening of the new Galafield Community Café in Newbiggin Hall, Newcastle, to celebrate the partnership between Action for Children and the Fireman Sam brand, which looks to highlight and encourage 'lighting up' your own hero.
Fireman Sam joined the festivities, greeting the children and sharing the new Fireman Sam 'Light Up Your Hero' Training Manual. The tots also enjoyed a HERO themed lunch and made paper fire helmets with a local artist in the new Community Café.
The Galafield Community Centre has been a lifeline to the local community of Newbiggin Hall for over 30 years offering targeted support including parent support groups, employment advice, access to adult learning, family fun days and a foodbank.
Throughout the pandemic the Galafield support team worked tirelessly to ensure the local community continued to receive help, delivering food parcels, advice, support and care. The team also delivered activity packs supported by video workshops for arts, crafts, music and dance.
The charity is delighted to be able to open up direct face to face services in the new Community Café, including youth club sessions with Inspire Youth; a women's wellbeing morning; No Frills Parenting with top tips for families; and special sessions for children with Autism. There will also be more arts and crafts sessions with a new Artist in Residence.
Val Hobson, Family Practitioner Lead at Action for Children in Newcastle, said: "I am so proud of the Galafield Family Practitioners and their incredible effort during the pandemic and their continued commitment to support our vulnerable families – they are true heroes".
The addition of the bright new Café provides a safe meeting point for the community, a welcoming and friendly space for people to re-connect with family cooking sessions, baby groups and pensioner lunch clubs. The newly revamped centre will also have story-time, baby fun sessions and advice sessions in a bright, accessible environment – an essential service in one of Newcastle's most deprived areas.
Helen Genia, a Fireman Sam brand spokesperson said "The team at the Galafield Community Centre are true Heroes who, just like the Fireman Sam team, have been serving their local community for over 30 years. We hope the new café will be a brilliant addition and help deliver a message to both honour and inspire the community in Newcastle and the rest of the UK as we work with Action for Children supporting the children and family services they provide.
An Action for Children spokesperson said: "We are thrilled to be partnering with the incredible Fireman Sam brand and welcoming him to the launch of our new-look Galafield Community Centre. All of the children were hugely excited to have such a hero come to visit them!"
"The opening of our café is a welcome opportunity to shine a light on all of our staff, past and present, who have helped make the Community Centre what it is today - a safe space for all members of the local community to connect with and support each other.
"We can't wait to continue to roll out the Fireman Sam brand partnership to our other children's centres and nurseries and are hugely grateful for the generous donation from Mattel which will go to supporting so many children all across the UK."
The new partnership between the Fireman Sam brand and Action for Children was kicked off with the 'Light Up Your Hero' Training Manual which invites tots to attempt 5 challenges, to find their inner hero. After completing their tasks, they are awarded with stickers, a special certificate and confidence that they can be a Hero – just like Fireman Sam. The Fireman Sam brand teams have distributed the 'Light Up Your Hero' Training Manuals and fantastic toy bundles to 77 Action for Children service centres and Spring Nurseries nationwide.
The 'Light Up Your Hero' Training Manual can be downloaded here.

End
For further information please contact:
Arron Williamson – 07718 244125
Action for Children
[email protected]
About Fireman Sam™
The Fireman Sam brand, a favourite for over 30 years, brings real life action, rescue, bravery, safety and community storylines to life through the Pontypandy Fire Fighting Team. Based in the (fictional) rural village of Pontypandy, the firefighters are pillars of the community and the heroes of every rescue. Whether stuck on a high cliff-face or caught in an underground cave, the residents of Pontypandy know help is always close at hand thanks to the brave and resourceful Firefighting Team. Fireman Sam content has over 9.36bn global views to date on the official YouTube Channel and it is a top 5 preschool character brand in Europe, with 360 integration, including toy, consumer products, live events, and publishing. The Fireman Sam show is produced by Mattel Television and WildBrain and distributed by WildBrain.
About Mattel
Mattel is a leading global toy company and owner of one of the strongest catalogs of children's and family entertainment franchises in the world. We create innovative products and experiences that inspire, entertain, and develop children through play. We engage consumers through our portfolio of iconic brands, including Barbie®, Hot Wheels®, Fisher-Price®, American Girl®, Thomas & Friends®, UNO®, and MEGA®, as well as other popular intellectual properties that we own or license in partnership with global entertainment companies. Our offerings include film and television content, gaming, music, and live events. We operate in 35 locations and our products are available in more than 150 countries in collaboration with the world's leading retail and ecommerce companies. Since its founding in 1945, Mattel is proud to be a trusted partner in empowering children to explore the wonder of childhood and reach their full potential. Visit us online at mattel.com
About Action for Children
Action for Children protects and supports vulnerable children and young people by providing practical and emotional care and support, ensuring their voices are heard and campaigning to bring lasting improvements to their lives. With 512 services across the UK, in schools and online, in 2020/21 we helped 604,885 children, young people and families. actionforchildren.org.uk