There's no place like home: Helping Rhys shine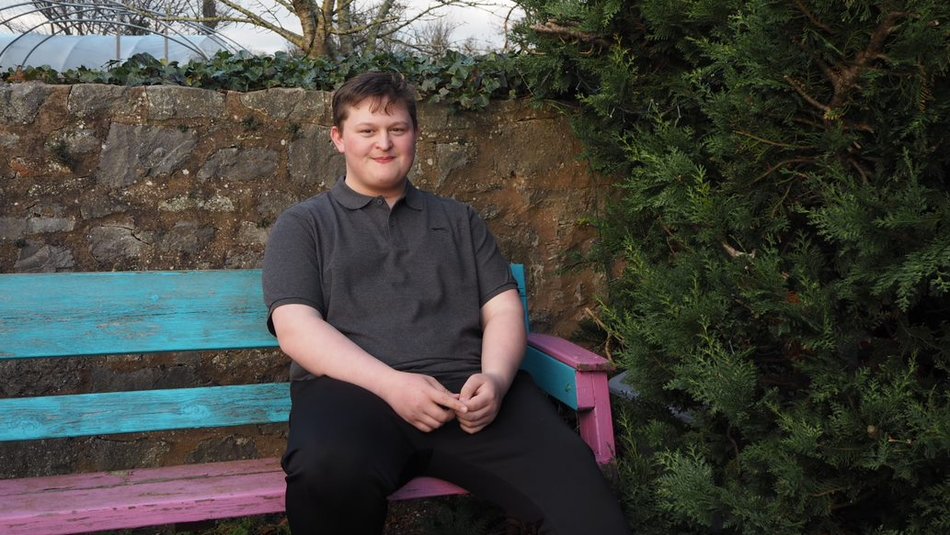 Rhys was 10 years old when he went into care. It hasn't been easy, but since getting the love and support he always deserved, in one of our family-style homes in North Wales, his future is looking brighter
Rhys is a 15-year-old living in North Wales. He joined our Tan y Bryn residential home two years ago and has been flourishing ever since. But this confident, happy young man has been on quite a journey to become who he is today.
I probably cried myself to sleep a lot of the times when I first went into care. But it does get easier...
At the age of 10, Rhys went into care due to neglect. He had endured eight placement moves before finally arriving at Tan y Bryn. Move after move, Rhys found it difficult to settle down anywhere. And despite having seven siblings he was unfortunately never placed with any of them.
School wasn't easy either. Rhys was often bullied for being in care and ended up missing out on two years of education.
Rhys told us, "It was very hard to get friends, because you couldn't stay in a place for that long. I had one placement, where I had a best friend there, and then I got moved to the opposite side of the country.
"[I] always had the wish to be treated as normally as possible, attend mainstream school and have friends in the community."
Rhys's time with us at Tan y Bryn has provided him with the stable childhood he always longed for. He's received lots of encouragement and support from the resident youth workers. One in particular has had a big impact: Dave, who formed a strong connection with Rhys from the beginning. It's all been essential in enabling a positive environment for Rhys.
Rhys's placement at Tan y Bryn is the longest he's had. Before, Rhys struggled with his temper and was often restrained.
Dave spoke of the difference in Rhys's behaviour: "He's progressed, massively. [He's] mature, but [he's] more relaxed here."
Rhys explained how the support helped him to grow and manage his emotions: "I have a lot more freedom. I've gained a lot more trust. Here, because I'm 15 and I have the respect, if I do walk away, five minutes later, I'll come back, I'll apologise."
When speaking of his relationships within the home, Rhys told us that they are "as close as a family can get, considering we're in care."
Action for Children have helped me a lot. Before I was in Action for Children, as I said, I wasn't doing too well. Since coming here, they've helped me a lot. They're obviously really good at choosing staff to hire.
Dave and Rhys connected from the moment they first met, and they've been close ever since.
Speaking about their friendship, Rhys said: "From day one, we were quite close. No idea specifically why, but [he's] easy to talk to. We basically kind of connected."
Dave speaks fondly of Rhys and their familial bond. He told us: "If all the other four young people can follow his lead, [he gets] good points… I can speak to Rhys openly and he gives me feedback openly."
For Rhys, it's amazing to hear someone speak so highly of him. He shared: "It's quite nice to hear from other people [how well they think I'm doing] … if it's from someone like Dave, or people I like, it means a lot more, because it's like, 'Well, if they see I'm doing well, then I should see I'm doing well'."
Rhys now is doing extremely well in all areas of his life. He attends school full time, is a peer mentor for some of the other children and is part of the school council.
Rhys shared that despite struggling himself, he enjoys helping others. "I've got my own issues, but it is quite good to know that I can help other people, like I got help before off other people. It's just quite nice to feel like they'll go home feeling less terrible."
Rhys now speaks highly of the future and shared his new life goals with us: "[I'll] hopefully living by myself, hopefully further on in the future [and] owning my own restaurant."
Dave is also excited to see what Rhys can achieve with his potential. He shared, "He's streets ahead of everyone else. He can cook, he can do anything."
At Action for Children, we see the star in every child. We know that with the right environment, every child can thrive and experience the childhood they deserve.
It's inspiring to see a child like Rhys shine after getting the right support. But there are so many more children just like him who need our help – children in poverty, facing abuse and neglect, and those struggling with poor mental health. With your support, we can continue helping children's stars shine.
A star in every child
Every child deserves a bright future. Together, we have the power to help children overcome abuse and neglect, poverty and poor mental health.
Help them shine